Food Truck Fridays
Food Truck Fridays are back at the market with Brother Jake's Brick Oven Creations most Fridays. Stay tuned and sign up for our newsletter (see link above) for updates on food truck schedules, the latest on our live market.
2018 Season Schedule at the CenterTown Pavilion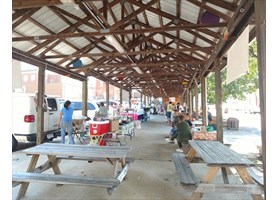 MAY - OCTOBER SCHEDULE
Tuesday 3:00 - 6:00 pm
Friday 7:30 am - 1:30 pm
Food trucks on Fridays 11:30 - 1:30
First Saturday of Month 9:00 am - 1:00 pm

ONLINE MARKET opens every week on Wednesday morning, and closes on Sunday at midnight. Pickups are during our regular Tuesday Market from 3 - 6 on
Tuesday. Shop as much as you like for one delivery fee.
Welcome Wingstem Farm
Wingstem Farm is sustainable farm located in Montvale. They will be with us from time to time with various mushrooms and other delights. Keep checking back for more offerings.
Regroup for the Winter months
Taking 2 weeks off to update the market. Look for new lower delivery fees, new vendors, holiday deals. Orders will open again on November 13 for delivery November 20, just in time for Thanksgiving.
See you in a few weeks
Closed for revamping. Next order will be in time for Thanksgiving dinner!
see you soon.
Oslin Creek Livestock
Oslin Creek Livestock is returning to the market this year on Tuesdays, Fridays, and here in the online market. Steve's Beef, Pork, and Eggs have been a hit at the market. The Uprooted Food truck is now serving his beef. (They will be making appearances on Food Truck Fridays.)

http://www.bedfordeconomicdevelopment.com/?bedford_grown_partic=oslin-creek-livestock-company
Serving the Bedford Community
Bedford Farmers Market provides our community with the freshest, locally grown and produced goods from farmers, producers, and craft vendors. We support local agriculture and producers by providing a direct market for their products to our community